Home Where you will find out more about mystery novels, find new authors, and learn about some really great older ones.
The Amateur Detective in the British Mystery Novel 1945 - 1990
Menu: The British Police Detective | The British Amateur Detective
British mystery writers prior to World War II may be found at Early Mystery Novels and Novels of the Golden Age. Authors whose first book was published after 1990 will be found at British Mysteries Since 1990.
Dick Francis (1920 - 2010) was born in Tenby in southern Wales. He was riding horses by age five. He dropped out of school at age fifteen. He served as a pilot in the Royal Air Force during World War II. He became a professional jockey in 1948, and became one of the top jockies in England. In 1957, he retired from racing and started writing. He started as racing correspondent for the London Sunday Express. He published his first novel Dead Cert in 1962. His horse racing novels were extremely popular and he won the Silver Dagger Award from the Crime Writers Association, and in 1996, he was named a Grand Master by the Mystery Writers of America. A bibliography of his books may be found at the Fantastic Fiction web site.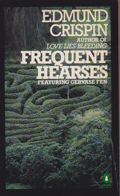 Edmund Crispin (1921 - 1978). Crispin is the pen name of Robert Bruce Montgomery. His series mysteries featuring amateur detective Gervaise Fen are some of the wittiest and most literate novels in the genre. Crispin was born in Chesham Bois, and attended St. John's College at Oxford University. He wrote his first Fen novel, The Case of the Gilded Fly in 1944 while still an undergraduate at Oxford. After graduation, he worked for a short time as a teacher, and was a reviewer of mystery novels for the Sunday Times. Under his Montgomery name, he published songs, choral pieces, and film scores and is best know for the scores for the Carry On movies. A biography and bibliography may be found at the Golden Age of Detection web site.


Margaret Yorke (1924 - 2012) Yorke is the pen name of Margaret Beda Nicholson. Yorke wrote a short series of mysteries featuring amateur sleuth Patrick Grant, but most of her books were stand-alone novels of crime, psychological suspense, and revenge. She wrote over 50 books, and has won the CWA Golden Dagger award and the Diamond Dagger award. A biography and bibliography may be found at Wikipedia. More information may be found in her obituary in the Guardian.


Hazel Holt (1928 - 2015) - British author of a very enjoyable series which features Sheila Malory, author and amateur detective, in a small English town. Ms. Holt has also written the biography of Barbara Pym. A bibliography of her books may be found at Fantastic Fiction. There is an interview with Ms. Holt at the Coffeetown Press web site.


Antonia Fraser (1932 - ) grew up in Oxford. She is the daughter of Francis Aungier Pakenham who became the Earl of Longford in 1961. She received her bachelor's and master's degrees from the University of Oxford. She was married to Sir Hugh Charles Patrick Joseph Fraser in 1956. Later they were divorced, and she married the playwright Harold Pinter. She wrote a number of biographical works on figures from English history, but is know to mystery readers for her series about Jemimah Shore who is a British television reporter. The first Jemima Shore book, Quiet at a Nun was published in 1977. She received the Gold Dagger award from the Crime Writers Association for her nonfiction book The Gunpowder Plot. A bibliography of her works may be found at Fantastic Fiction


Jonathan Gash (1933 - ) is the pen name of John Grant. Grant was born in Bolton. He studied medicine at the Royal College of Surgeons and Physicians. While studying there, he worked in antiques junk shops and as a stall attendant at a street antique market. Grant has had a general practice, worked at a pathologist, and a microbiologist. He is a fellow of International College of Surgeons and of the Royal Society of Tropical Medicine. He published the first Lovejoy novel, The Judas Pair in 1977 which won the Creasy Award for the best first novel. The Lovejoy series ran on television from 1986 to 1994. A bibliography of his works may be found at Fantastic Fiction.


Jill Paton Walsh (1937 - ) - Ms. Walsh has written childrens and adult novels. She has also completed the novel, Thrones, Dominations, which Dorothy L. Sayers left uncompleted, and has since written other Lord Peter Wimsey novels. She also writes delightful mysteries which tell of the detecting adventures of Imogene Quy, a nurse at a Combridge university. Jill Paton Walsh Web Site.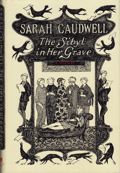 Sarah Caudwell (1939 - 2000). Sarah Caudwell only wrote 4 mystery novels but they are gems which shouldn't be missed. Her sleuth was professor Hilary Tamar, an Oxford don. It is impossible to tell whether Hilary is a man or a woman. Tamar investigates crimes with the assistance of the barristers in chambers at Lincoln's Inn, and these are some of the most eccentric and wittiest characters in mystery literature. The four books are Thus was Adonis Murdered, The Shortest Way to Hades, The Sirens Sang of Murder, and The Sibyl in Her Grave. For more information, read the article A Most Ingenious Legal Mind: Sarah Cauldwell by Martin Edwards. A biography and bibliography may be found at Crime and Mystery Fiction web site.


Lindsey Davis (1939 - ) was born in Birmingham, read English at Oxford, and then worked in the civil service until 1985. She is best known for her series about Marcus Didius Falco, who solves crimes in Rome in the 70's. The first novel of the series, The Silver Pigs was published in 1989. Ms. Davis has won many awards including the CWA Cartier Diamond Dagger which honours outstanding achievement in the field of crime writing. For more information, visit her web site


Ruth Dudley Edwards (1944 - ) Author of both mystery fiction and nonfiction. She is the author of several extremely funny satires of the English establishment. She was born in Ireland, but moved to England for college and has lived there ever since. She has worked as a marketing executive, a civil servant, and a journalist. Her novels feature Robert Amiss, a civil servant, and also members of the police force. It is Amiss who usually solves the crime. Her first mystery novel was Corridors of Power. She has been shortlisted several times for CWA Last Laugh award. Her web site


Simon Brett (1945 - ) Brett started his career as a television producer for BBC. His first series featured Charles Paris, a frequently out-of-work and frequently drinking actor who tries to solve mysteries. Brett also writes a series about Mrs. Pargeter, the well-to-do widow of a gentleman who was engaged in some sort of criminal activity. Mrs. Pargeter has learned some interesting skills from her late husband which help with her detective activities. His newest series is about the English retirement community of Featherington where the crimes are investigated by Carole Seddon and her friend Jude. For more information, visit Simon Brett's web site.


Sarah J. Mason(1949 - ). Perhaps you know her better as Hamilton Crane, the author of the Miss Seeton Mysteries. Miss Seeton is a wonderfully eccentric retired art teacher who tackles the world of crime with her umbrella. Mason took over this series from the first two writers, Heron Carvic and Hampton Charles. Miss Mason also writes a series under her own name about Detective Superintendent Trewley and Sargent Stone of the Allingham Police Department


---
This site is maintained by Linda Bertland, Philadelphia, PA. Please address any comments, additions, or corrections to info@sldirectory.com