Home - Where you will find out more about mystery novels, find new authors, and learn about some really great older ones.
Back to The British Police Detective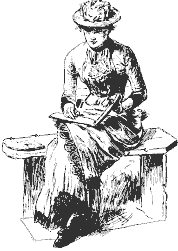 Christianna Brand
Christianna Brand is the pseudonym of Mary Christianna Milne Lewis. She was born in Malaya in 1907 and lived there and in India until she returned to England to attend a Franciscan convent school in Somerset. Unfortunately her father lost all of his money, and she left school at age 17 to work at a series of low paying jobs which included governess, salesgirl, dress packer, ballroom dancer, and model.
While she was working as a salesgirl, she grew to dislike a coworker so much that she wrote the first chapter of Death in High Heels as a form of revenge. Ms. Brand left this job to marry surgeon Roland Lewis in 1939. She completed the book after her marriage. The book was rejected by 15 publishers, but was accepted, without a single revision, by the sixteenth. It was published in 1941 and received great critical acclaim.
She wrote detective novels for the next 14 years, and after that wrote short stories. Her principle series hero was Inspector Cockrill of the Kent County Police who was introduced in her second book, Heads You Lose. Her first two drafts of the book were destroyed by fire during "enemy action" during the war. Cockrill is a crusty character with incredible powers of deduction and a great judge of human nature. She wrote other mystery novels which did not feature Cockrill. She also wrote the Nurse Matilda series for children, and the recent Nanny McPhee movies are based on these stories.
Ms. Brand is noted for her clever plotting, her ability to surprise the reader, and for a good sense of humor. The novel Green for Danger written in 1944 is her most outstanding work and is a classic of mystery fiction. In this book, a patient in a hospital for bombing victins dies on the operating table. Foul play is detected in the death, and Inspector Cockrill is called to investigate. Ms. Brand had a first hand knowledge of the war and of hospitals during this period. Her husband, Roland Lewis, volunteered for the armed forces and was posted to a hospital in Kent. Christianna joined the Voluntary Aid Detachment at the hospital, and became quite familiar with the night time bombing raids. She also worked in the Emergency Bed Service which was a government bureau which got patients assigned to the nearest possible hospital in the shortest period of time.
The J. Arthur Rank corporation offered her a contract for the rights to film Green for Danger which became a very successful mystery movie. Alaister Sim played the role of Inspector Cockrill.
Ms. Brand died in 1988.
A bibliography of her books may be found at Fantastic Fiction web site. Movies and TV shows based on her work may be found at Internet Movie Database. Mysterious Press is reissuing a number of her books in ebook format.
---
This site is maintained by Linda Bertland, Philadelphia, PA. Please address any comments, additions, or corrections to info@sldirectory.com